Londoner set for Northern Pole of Inaccessibility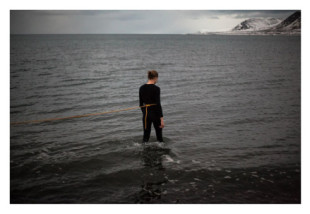 By Lisa Pook, Senior Policy and Programme Officer at the GLA – an LCCP Partner
We've lost 40% of Arctic sea ice in the last 40 years
We've more melt days, less freeze days
We've more open water absorbing the sun's radiation
Heating the planet
But, I don't need to tell you this, you already know.
Picture: Hege Susann Hansen Photograhy 
In February 2015 the Ice Warrior team will part in one of the most ambitious polar expeditions of our time; to be the first expedition in history to reach the Northern Pole of Inaccessibility.
Defined as the furthest point from land on the Arctic Ocean and therefore its centre, the Northern Pole of Inaccessibility remains the last truly significant place in the Polar Regions, yet to be reached by mankind and is over two hundred miles further than the Geographic North Pole. The whole journey will be near to 800 miles from the northern shores of Canada and will take in the North Magnetic Pole on route.
The Ice Warrior team is a mix of males and females of all ages, led by accomplished explorer, Jim McNeill. I have been chosen to take part.
Since February this year I have been training to become a competent, safe, modern day explorer. This challenge is testing me in so many ways – learning to ski, learning to put a tent up in a snow storm, medical training, belay devices and mechanical advantage, ice science, polar bear deterring, camp craft, fitness, logistics, planning, hypothermia training and cold water immersion. It's been testing, but completely worth it.
This expedition is driven by science and will cover a transect never travelled before. The scientific scope of the program has three terms of reference:
• ice properties e.g. ice-type ridging/rafting stage, ice-free-board, ice-type thickness
• snow thickness, snow density and snow crystal properties
• ice mechanics, growth of winter ice (rafted/ridged vs. thermodynamic), crossover thickness and block thickness in ridges and cohesion of ice blocks
This data will be collected by the team under the guidance of Bjorn Erlingsson, researcher at the Icelandic Meteorological Office and fed into the NASA funded National Snow and Ice Data Center (NSIDC) scientists, The Met Office, The Scott Polar Institute, The Norwegian Polar Institute and the Russian Arctic and Antarctic Research Institute to name a few.
Collection and delivery of this data will make the whole endeavour a massive citizen science project, and with media partners on board which include BBC Tri-Media, ITN and The Times, we are set to make headlines.
If you would like to know more about the expedition, or support us in any way, please get in touch via my page.
Tweet me: pookielondon
Blog: www.pookielondon.wordpress.com/about