Infrastructure failure : how would Anytown adapt?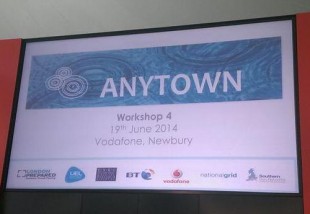 Last week LCCP partner London Resilience hosted three workshops as part of the Anytown project. Last year, Anytown brought together over 100 experts from over 50 London organisations to discuss the potential implications of disruption to electricity and water supply, and map out the knock-on effects. Matthew Hogan from London Resilience Team explained that "the aim of the Anytown project is to raise awareness of the consequences of infrastructure disruption with all emergency response organisations in London – it's a way of talking about disruption to London's infrastructure, which has developed over hundreds of years, into a simple model which could be applicable anywhere in the UK."
The recent workshops focussed on the cascading consequences and interdependencies associated with disruption to telecoms networks and gas supply to the fictional 'Anytown', with scenarios considering different periods of infrastructure disruption.
Telecoms Disruption
Most organisations have plans in place to manage a disruption, however it revealed there could be potential for serious impacts for the Health Sector and to smaller businesses from the start. During the initial 'information gathering phase' Anytown's local resilience forum would be assessing the scale of the problem and developing ways of informing the public: in the absence of telecoms this presented an additional challenge. The workshops found that the longer the disruption lasts the more health and public order issues become considerations and Anytown might turn to neighbouring towns for help.
In longer disruptions to telecoms it's likely that some community action or improvisation would develop – this could include finding alternative communication methods such as CB radios. People's ability to report emergencies could be reduced and so it was suggested that there might be an increase in demand for the emergency services and some utility providers (gas leaks, water main bursts, etc). Transport information systems might also be affected, which could lead to disruption to public transport networks. In brief, the workshop highlighted how all parts of our daily lives heavily rely on telecommunications and how network failure would have a significant impact on the community.
Gas Supply Disruption
Representatives from the gas distribution sector highlighted that old appliances could leak gas and therefore all properties affected would have their gas supply turned off and each property would need to be reconnected individually. Like for a telecoms failure, impact on healthcare system could be significant, especially during winter due to heating shortages. The community would probably look for alternative ways or keeping warm, like fan heaters or electric blankets, but this would increase electricity demand and cause potential supply issues. There may also be an increased number of fire accidents resulting from people using candles and camping fires at home.
In an extended gas failure there will start to be impact to businesses using gas, like laundrettes or refineries. Transports' networks would also be affected. Schools would also be likely to close as they would be unable to keep pupils warm; this could mean a large part of the workforce would be absent to care for children. Communities are likely to be anxious, however it's likely that there would be a increase in volunteering – providing elderly neighbours with warm food and a cup of tea. There could also be longer term changes in attitude towards privatisation of the gas supply industry or local shale gas extraction (fracking).
It was stressed that the range of scenarios used to discuss impacts in Anytown were unlikely, but that thinking through the widespread consequences was useful to help develop response plans. In addition, understanding how these consequences unfold in the present day can be helpful in understanding the implications of climate change. With more frequent and more extreme events projected, it's likely that disruption to infrastructure could also increase.