A Cool Place to Live
3 February 2021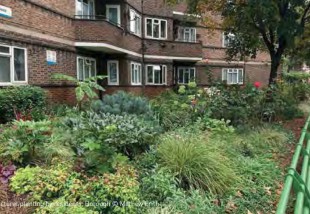 The London Wildlife Trust and Neighbourhoods Green produced this good practice guide to climate change adaptation through greening in social housing.
A Cool Place to Live (PDF)
Housing associations provide homes and support for some of the most vulnerable people in England and research has shown that it is the most vulnerable who are likely to be most affected by the impacts of climate change, including an increased risk of flooding and overheating.
Housing associations and local authorities have invested significantly in improving the energy efficiency of their homes to create warm, affordable to heat homes for residents and to mitigate the effects of climate change by reducing carbon emissions, and they continue to do so. However, some homes will remain at risk and social landlords increasingly need to make adaptations protect their existing stock from the effects of climate change.
There are already fantastic examples of estates where housing providers have used green infrastructure to protect homes and make their estates fit for the future, making use of green roofs, rain gardens, and green walls to help reduce the risk of flooding and keep homes cool during summer heatwaves. Investing in green spaces to make estates more resilient to the effects of climate change not only protects residents' homes, it can also increase health and wellbeing, enhance community cohesion and reduce anti-social behaviour.
This guidance provides the tools to support social landlords to make adaptations for climate change. We hope it will support them and their resident communities to future proof their housing estates, so they can continue to provide great places to live for future generations.