Climate UK event series: Reporting on Climate Change 2015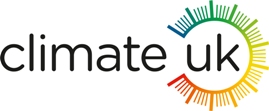 15 July 2015, 09:30 to 14:30
Brighton, Exeter, Manchester, Melton, Wakefield
Climate UK is delighted to have worked with the Committee on Climate Change once again to bring their latest findings to a wider audience across the UK. On Wednesday 15th July, the CCC shared, via live web broadcast, their 7th annual progress report on meeting carbon budgets and also their first statutory adaptation report. The latter assesses progress being made by government and others on the National Adaptation Programme.
You can download the CCC's presentation to the web conference by clicking the yellow box on the right and watch the narrated recordings here.
This format was tested successfully last year when the launch of the Adaptation Sub Committee's annual report 2014 was relayed to seven venues throughout England. These events provide an alternative to the cost and time of travelling to London and enable stakeholders to get together in a more convenient location and reflect on the findings collectively.
The five locations hosting events were Brighton, Exeter, Melton Mowbray, Manchester and Wakefield. A limited number of people also participated remotely.