Londoners at increasing risk of heatwaves and floods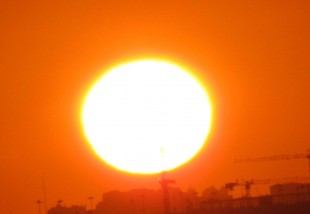 Posted on 9/07/14 by Chrysostomos Meli
Responding to the publication of the report on 'Adapting to Climate Change – climate risks to the economy and well-being' by the Adaptation Sub-Committee of the Committee on Climate Change, Professor Chris Rapley CBE, Chair of the London Climate Change Partnership, said:
The London Climate Change Partnership welcomes this timely and informative report. London's weather is changing and Londoners, and importantly those that make decisions on the location and design of our homes, workplaces and infrastructure, need to be aware of and plan for these changes. London is already vulnerable to extreme weather and by building in an allowance for further changes to our climate we can save money, improve our quality of life and attract investment to our city.

Cities are more vulnerable to climate change because of the concentration of people and infrastructure. They also can create their own microclimate.  For instance, during hot weather the centre of London at night can be 4-6°C warmer than surrounding rural areas. During a heatwave, it can be up to 10°C warmer, due to heat being absorbed and trapped by its buildings and roads. London experienced particularly hot spells in the summers of 1976, 2003 and 2006, but climate change means these events could become commonplace by the middle of this century. Following the 2003 heatwave, which resulted in over 2000 heat deaths across the country, with over 600 in London, the National Health Service introduced an annual Heatwave Plan, which has provided greater protection during subsequent events. This is one way in which London and the rest of the UK are becoming more 'climate-resilient'. However, research carried out by the London Climate Change Partnership shows that the impacts of hot weather can begin to be felt by people vulnerable to heat at 24 centigrade degrees, substantially below 32 centigrade degrees, the temperature at which a heatwave is officially declared. This needs to be taken into account given the predictions that the incidence of hot weather will increase.

As this year's winter storms demonstrated, flooding can threaten many parts of London. But Londoners are fortunate to be protected by the Thames Flood Barrier, which although designed to stop tidal surges, has proved invaluable at managing river flooding. The Barrier was closed over 50 times during the past six months to provide protection against tidal surges and upstream river flooding. As sea level rises, it will be necessary to increase the height of the Barrier and the protective dykes. The Environment Agency's 'Thames Estuary 2100' plan addresses this need through a flexible approach in which expenditure and action take place as and when needed, taking into account uncertainties about future rates of rise. The approach has been picked up by Cities elsewhere in the world faced with similar challenges, demonstrating the potential to exploit London's experience and 'know-how' as commercial services.
>>More information on LCCP's 'Overheating thresholds for Londoners' work is available here
>>More information on London's Urban Heat Island is available here and here