LHC plans to help LCCP deliver its Vision for London's future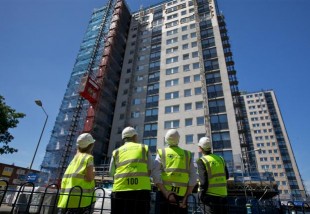 Posted on 22/12/14 by Chrysostomos Meli
LHC is a leading not for profit provider of technical product advice and procurement solutions for the construction, refurbishment and maintenance of homes, schools and community buildings.
LCCP is looking forward to working with LHC in order to help mainstreaming climate adaptation in building retrofit. LHC's practical expertise will be a great addition to LCCP's membership.

LCCP Chair Chris Rapley
LHC recognises to have an economic, social and environmental responsibility to ensure their frameworks cover the fundamentals to promote both climate change mitigation and adaptation measures.
There is still a definite lack of awareness within the building industry regarding the measures that should be taken to improve the energy efficiency of existing homes.
Over the coming year, LHC will be developing a new UK wide framework for Building Insulation and Associated Services. This framework will offer a range of insulation measures for building refurbishment and will ensure that the range of solutions are fit for purpose across property and construction types, and suited to geographical regions.
For example, if properties are situated in flood prone areas then the insulation needs must be considered carefully and water resilient alternatives will need to be available on the framework.
LHC's key to success is their communication with the public sector and over the coming months they will be holding discussions with London Climate Change Partnership (LCCP) and other key groups to ensure they develop effective relationships.
The intention is to include the development of a communication plan to target LHC's members, appointed contractors, (both SMEs and larger main contractors) and wider stakeholders.
LHC will need to incorporate climate change resilience as part of their overall approach to asset management, refurbishment and maintenance, so that appropriate adaptations in all future LHC frameworks are considered and included.
The new framework will also take into account the need to incorporate whole life costing and the Social Value Act 2012. LHC will be encouraging SMEs as well as large contractors to apply and the framework will be divided into two work streams, based upon size and value of contracts.
Again there will be a need to engage with these interested parties to ensure that they are both aware of climate resilience issues – such as overheating and flooding – and that they are also capable of providing solutions that can support climate resilience.
With a need to ensure that modelled energy savings are as close as possible to in situ performance, there will also be a strong emphasis on appointed contractors being able to provide evidence of the quality of their installations and the performance of the measures installed.
LHC is committed to developing frameworks suitable to the current industry conditions and delivering results for their members. You are welcome to feedback any thoughts/suggestions for the new Insulation framework to Peter.Thompson@lhc.gov.uk or complete LHC survey.