LCCP's Annual Forum held on 29 November 2012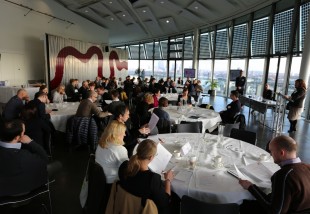 Posted on 12/12/12 by admin
First and foremost we would like to thank all of our speakers and attendees for joining us on 29 November 2012 and for contributing to the interesting conversations that took place. The LCCP forum is an important opportunity to discuss with a wide audience the matter of climate change adaptation and London.
Sir Gerald Acher CBE LVO, began proceedings by welcoming everyone to the forum. Sir Gerald reminded guests that the LCCP is celebrating its tenth anniversary and that London's Living Room in City Hall was also the setting for the release of our very first report ten years ago, London's Warming.
This year's theme for the forum is 'Opportunities for Growth: Climate Adaptation – How Can We Catalyse the Development of New Technologies and Services in London's economy?' and Sir Gerald highlighted that it is LCCP's role to ensure that London is a resilient and attractive city to live, visit and do business, but also that we all work together to encourage growth.
Matthew Pencharz (Mayoral Advisor, Environment & Political Affairs) reflected upon London's recent successes including the London 2012 Olympics and the Diamond Jubilee. Matthew expressed the importance of encouraging investment by ensuring London is a safe and attractive place to live and do business.
Matthew referenced some of the challenges we have faced this year – nationally (such as the drought and one the wettest summers in recorded history) and internationally – and that the Mayor recognises the threats of climate change and the benefits of improving London's resilience.
Dr Colin Church (Director, Climate, Waste & Atmosphere, Defra) highlighted the importance of London's resilience, given that it is a leading international city and a centre of business and culture. The UK Government's Climate Change Risk Assessment had indicated that London is vulnerable to flooding (river and surface water), subsidence, rising energy demands for cooling and the urban heat island effect.
In addition to the risks of climate change and extreme weather Dr Church highlighted the opportunities for growth and innovation: for example in 2010-11 the adaptation and resilience sector had a value of £2bn, representing a growth rate of 4% (and this in a time of economic difficulty).
Workshop 1: Adaptation in our offices and commercial buildings
Chaired by Keith Bugden, Programme Director, Better Buildings Partnership
Presentation slides
Project Angel – Emily Low & Jonathan Purcell, Waterman Group
Questions explored
1. How can we use these findings in practice?
2. What are the barriers and opportunities to taking this further?
3. What are the next steps to making it happen?
Workshop 2: Adaptation in our homes, how can the Green Deal help?
Chaired by Andy Deacon, Director of Delivery, Energy Saving Trust
Presentations slides
How Green Are London's Councils – David McAlpine, MTW Consultants
Andrew Tucker, Energy Saving Trust, introduced EST's Green Deal guidance for the water sector.
Your social housing in a changing climate – Andrew Eagles, Sustainable Homes
Questions explored
1. How can the partnership integrate these findings?
2. What are the barriers and opportunities to taking this further?
3. How can the Partnership support this and promote collaboration?