LCAW 23- Building innovate partnerships for climate adapted, sustainable cities
Partner Event to be held on 27 June 2023, 5.30-7.30pm
The Arcade, Arcadis, 80 Fenchurch St, London, EC3M 4BY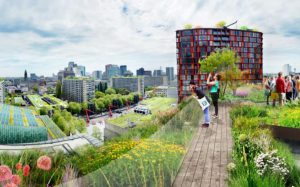 Tue, 27 Jun 2023 17:30 – 19:30  – The Arcade, Arcadis, 80 Fenchurch St, London, EC3M 4BY
Link to register: https://bit.ly/3X2aC3E
Join Arcadis, Transport for London and the London Climate Change Partnership at this drinks reception and panel discussion on how positive visions and innovative partnerships can deliver more sustainable and climate adapted cities. Speakers include:
Professor Anusha Shah, Arcadis Senior Director of Resilient Cities and UK Climate Adaptation lead
Sam Longman, Head of Sustainability and Corporate Environment at Transport for London
Judy Ling Wong, Black Environment Network founder and climate activist
Dan White, Policy officer, Disability Rights UK
Sharmala Naidoo, Technical Principal, Climate Change, Mott Macdonald
Decarbonisation, tackling inequalities, adapting to climate change, building prosperous, fair and resilient communities are all part of one exciting and positive transformational goal: The "Race To Sustainability".
Getting to net zero carbon as quickly as possible is the most urgent and impactful target of our time, but that in itself will not be achieved unless we tackle social equity, evolve our economic and social-democratic systems to put the citizen and not the consumer at the centre of society and without a rapid transformation of our built environment, systems and processes to adapt to the impacts of climate change that are now with us and will get worse before they get better.  Taking action now to adapt to climate change should not be seen as an unfortunate burden that we must now bear, but a powerful tool for addressing human rights, combatting injustices, regenerating nature and progressively improving every aspect of our lives.
Join Arcadis and the London Climate Change Partnership panel discussion on 27 June to explore the relationships between Climate Change Adaptation and the many aspects of the UN Sustainable Development Goals. We'll be discussing how to put nature at the heart of decision making, how we can integrate the benefits of climate adaptation as we rapidly decarbonise our cities, and how innovative partnerships can help deliver the solutions we need. Let us support one another to build a broad coalition for action from the full diversity of communities and people that our wonderful cities have to offer.